Tonight's girls soccer results: Lady Lions 0 Jennings County 6

The Lady Lions soccer team falls to Seymour 8-0 in their season opener.

The Lions will kick off the football season tonight as they participate in 3 team Jamboree. The Jamboree consists of Salem, Madison and Shelbyville. The game will be played at Madison. Gates open at 5:30 and the JV will play at 6:30. The varsity team is scheduled for 7:45. Information from Madison AD: ALL Fans need to enter through our Gates on the Southside of Football Stadium. There will be two gates. Admission for Event is $6. Tickets will be sold at Gate and online via TicketSpickt. Link for Online Tickets:
https://events.ticketspicket.com/agency/1e0e167b-9817-4cdd-9fa5-6d326f935752/events/673977fd-7122-4311-9e3d-14e616a0aa09

Attached are the Athletic Passes available this year. Fans can purchase passes at the high school athletic office during school hours and at the opening home game of each varsity sport. We will be doing paper tickets and cash box this year.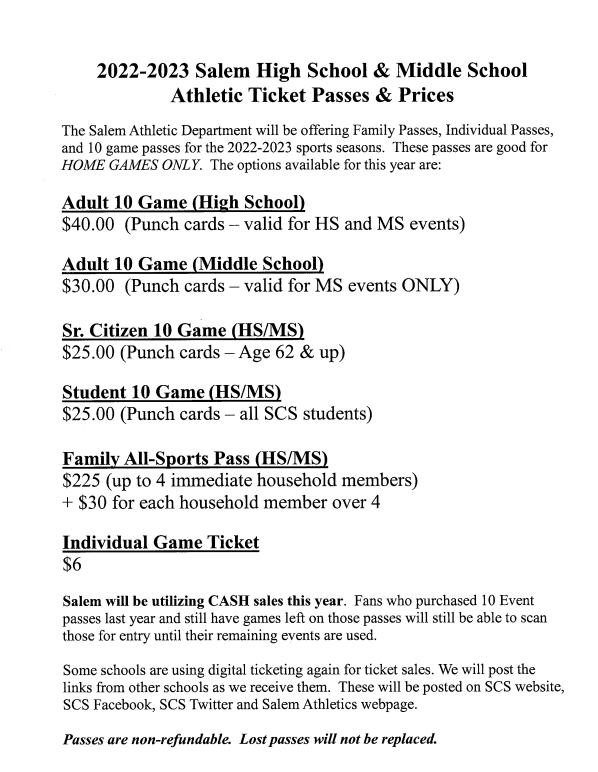 The Boys Track Regional @ Bloomington is still on as scheduled. Trevon Smedley, Braden Cummings, Aidan Hacker, Grant Mahuron, Hayden Baughman and Dillon Whitfield will be representing Salem in multiple events. Field events start at 6:00 with running events starting around 6:30.

Tonight's baseball sectional is cancelled due to poor field conditions. Last night's postponed games will now be played tomorrow night (Friday) at Madison. The Lions are now scheduled to play at 7:30 on Saturday (5/28).

Baseball at Henryville is cancelled for tonight.

SCS teachers Chris Catlin, Emily Johnson, Crystal Mikels, and Jessica Morgan attended the MakeIt! STEM Teach workshop at the University of Indianapolis today. They were fortunate to be awarded a MakerSpace cart valued at $7,500.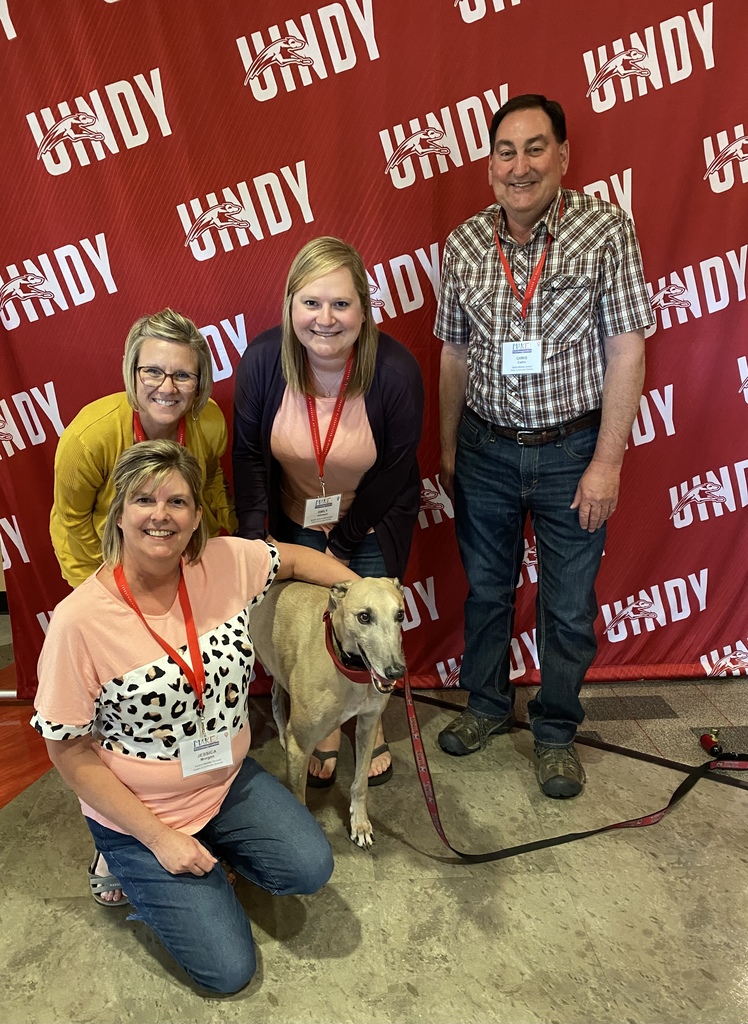 Girls Varsity Tennis Sectional Draw: Salem vs. Eastern @ 5:00 on 5/19 (at Floyd Central) Winner of this match will play in the championship on 5/20 @ 5:00.

The athletic department will be offering free physicals this Wed. (5/18) at 5:30 in the Randy Johnson Fieldhouse. This is for current SCS students currently in 5th-11th grades. This is made possible by local healthcare providers who are volunteering their services.

Parents, we want to remind you that the LifeSpring Clinic at BSE is available to see your students. They can do athletic physicals for high school students and kindergarten physicals for incoming kindergarten students. Contact the clinic at 812-883-3700 extension 4021.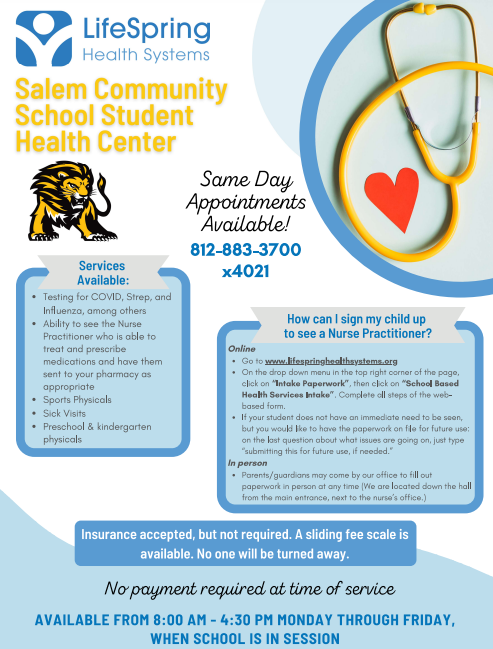 Attention Salem Families, We hope the power outage is solved before school time tomorrow. If power is not restored, then we will have a cancellation, but only if power is not back on by the start of school.

Tonight's softball game at Corydon has been pushed back to a 6:30 start.

JV baseball game at Charlestown has been cancelled for tonight.

UNIFIED GAME DAY Tuesday, May 10th 10:00 AM-1:00 PM RAIN DATE: THURSDAY, MAY 12TH 10:00 AM-1:00 PM NEWKIRK TRACK and COOK FIELD @ Paoli Schools The community is welcome to attend Unified Game Day field activities and unified track and field competitions. Unified Champion Schools is an inclusive physical education and gross motor education program designed to bring students with and without disabilities together to learn the skills and knowledge needed to participate successfully in inclusive sports and fitness programs in their schools and communities. The corporations competing will be Crawford County, East Washington, Paoli, Salem, Springs Valley, and West Washington Concessions will be open with proceeds going to WHAS Crusade for Children.

Baseball Sectional Draw for Salem (at Madison): Salem vs. Madison on Thursday, 5/26 @ 7:30

Softball Sectional Draw for Salem: Tuesday, 5/24 G4: Charlestown vs. Salem (7:30)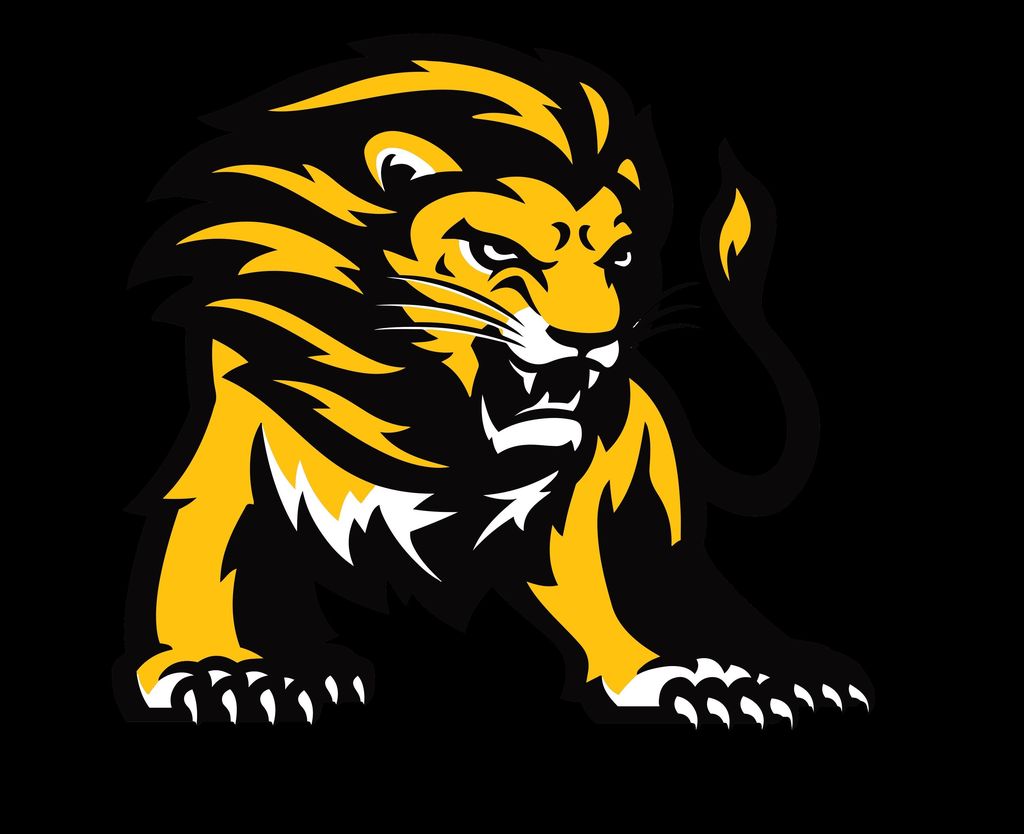 Salem boys track team placed 1st in their 4-way track meet last night. Trevon Smedley set a school record in the 100m dash with a time of 10.8. The boys 4 x 100 relay also set a school record with a 44.6 time. The girls track team also placed 1st in their 3-way competition.