Lady Lions win 80-30
57-16 Lady Lions lead going into the 4th quarter.
The Lady Lions lead WW 38-6 at the half.
Tonight is the home opener for the Lady Lions basketball team. JV starts at 6:00 followed by the varsity game at approximately 7:30. Due to Covid crowd limitations only parents/guardians and siblings of players and coaches may attend along with essential staff (players, coaches, referees, etc.). There are NO tickets available. Only those that received a voucher from a player may purchase a ticket. SLNN will be streaming game live and WSLM will be covering through radio broadcast. Please wear mask/face covering throughout the game and utilize the entire gym for spacing. Our best opportunity for our kids to continue playing is for all of us to follow protocols and guidelines.
https://docs.google.com/document/d/1jB2SGpeWZ8gNgByTNwI_zLxTKtMoZ_JGtH5kf-ttnJ4/edit?usp=sharing

SCS Families, If you would like your student to participate in the Online Lions pathway during second semester you must sign up at the link below. You must sign up even if they are currently in the OL pathway. The deadline to sign up is 11/30. tinyurl.com/januaryol

Salem Community Families, Please read the message below about our upcoming remote learning announcement.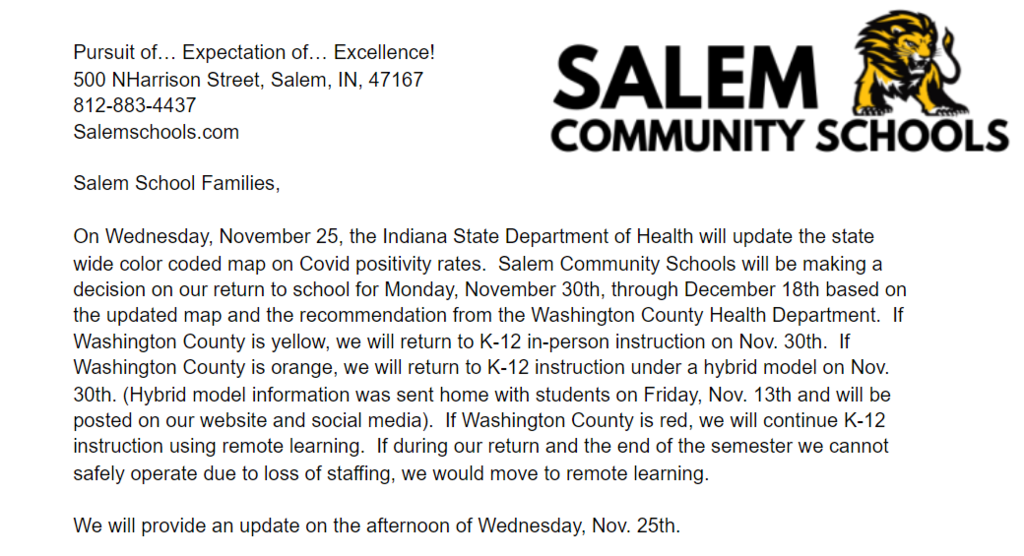 Lady Lions win 65-48
Salem leads 42-20 at half
Lady Lions lead Madison 23-7 to start 2nd quarter behind Natalie Noel's 3-3 three point shooting
Reminder that all fans must wear mask to enter and while in the gym at Madison tonight.
Lady Lions defeat county and MSC rival 61-42.
Salem leads 48-25 going into 4th quarter.
37-15 Lady Lions lead at halftime
Lady Lions leading 21-7 after 1 quarter.