The LifeSpring Health Clinic at Bradie Shrum Elementary School is pleased to announce that any Salem Community Schools athlete needing a sports physical can see them for a free physical. Also, any SCS student who may be entering kindergarten may schedule an appointment with the clinic for the needed school physical. Just call 8128833700 extension 4021.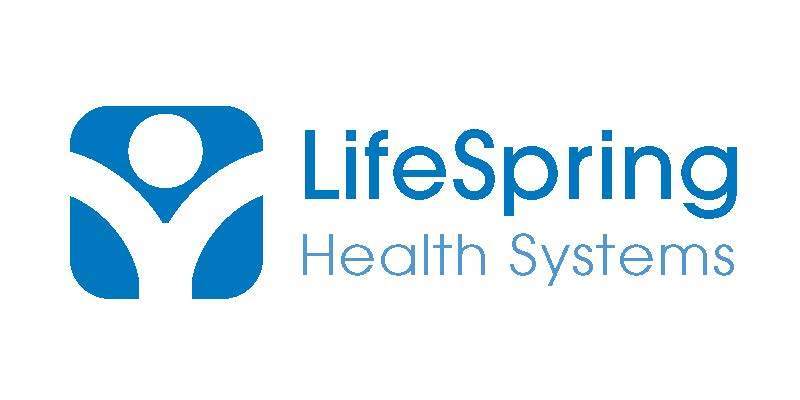 Due to shortage in umpires tonight's softball game is cancelled. It will be rescheduled for next Tuesday (4/26) following the 5:30 Austin game. Salem will play double header that night.

Salem Community Schools Board of Trustees will be having a special meeting on Wednesday, April 20th at 4:00 p.m. to enter into a contract with the new Superintendent of Salem Community Schools. This meeting will be held at Salem Middle School in the Richard L. Trueblood Performing Arts Center. A reception will be held immediately following the meeting in the Salem Middle School cafeteria. The public is invited to the meeting and reception.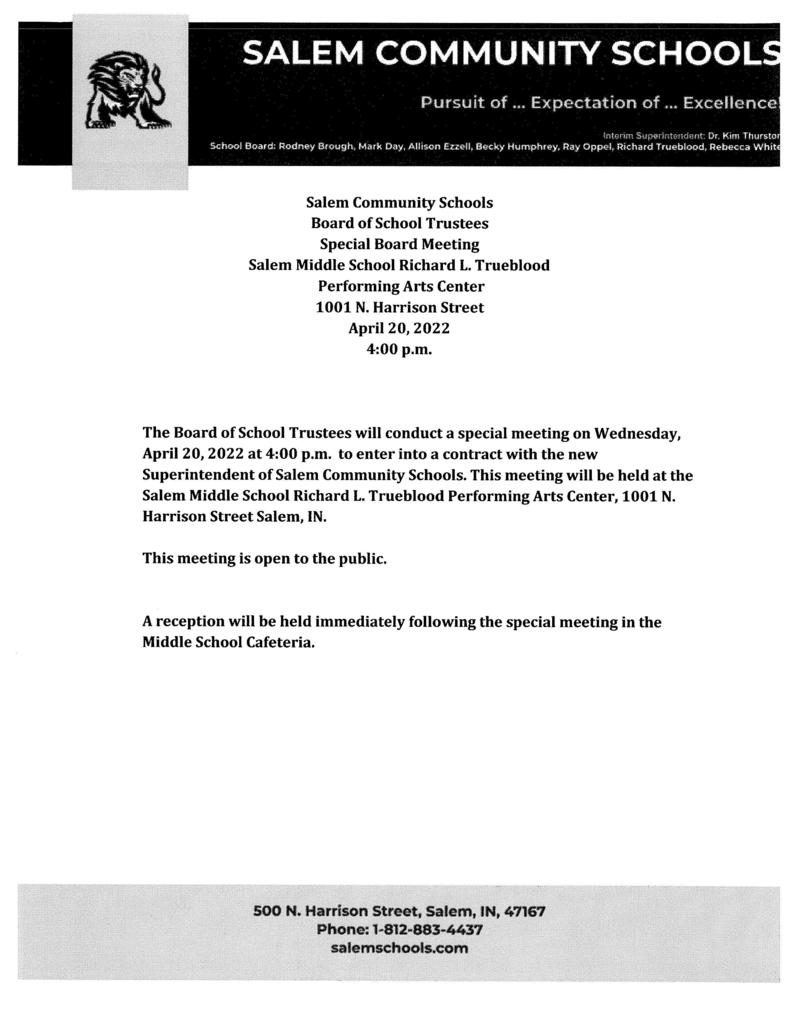 Today is final day to purchase Hall of Fame tickets for this Saturday's Ceremony. Tickets will be available in the athletic office at the high school until 3:00. Cost is $20 per ticket.

Good morning! This is Salem Community Schools with a reminder that school is closed tomorrow, Friday, April 15th. We hope everyone has a good day and enjoys this upcoming weekend. The bus to Prosser will run tomorrow.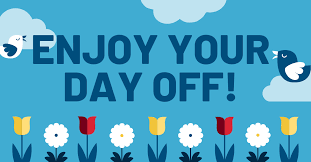 HS track meet, Varsity Softball and Varsity Boys Golf have been cancelled for tonight.

Saturday's softball game @ WW has been moved to the following Saturday (4/16). Same start time (10:30 a.m.).

Due to field conditions the softball game scheduled for tonight is cancelled.

Salem MS and HS has coaching openings for the upcoming school year. Positions currently open (for 2022-23) are: HS Cheer HS Cheer ass't 6th Grade Cheer HS Swim MS Swim Contact Hank Weedin at
hweedin@salemschools.us
if interested or if you have questions.

Tickets are now available for the 2022 Salem Athletic Hall of Fame Dinner & Ceremony on April 16th. Tickets are $20 & can be purchased at the SHS office during school hours. Arrangements can be made if purchase needs to be done after school hours.

Tomorrow's baseball game vs. WW is cancelled. Also, the JV game scheduled for Wednesday is cancelled.


Tickets for the 2022 Salem Athletic Hall of Fame Dinner and Induction are now on sale. Tickets can be purchased at the high school athletic office. Cost is $20 per person (Kindergarten and under free). This year's class is combination of 2021 and 2022 due to Covid cancellation last year. Members of this year's class include: Edgar (Big Ed) Davis RJ Hartsfield Molly (Huey) Kelly Ray A. Lee Ray Oppel Paul Scifres Derek Smith This year's ceremony is on Saturday, April 16, 2022. The meet and greet will start at 5:15 followed by dinner at 5:45 and induction ceremonies around 6:30. Tickets are on sale until April 8th.

Admission for the softball scrimmage tonight will be canned/boxed food items. This will be in place of ticket purchase for tonight only. All canned goods collected will be donated to the local food bank. Please disregard yesterday's post with ticket link.


On Tuesday, the SHS Teen Science Cafe hosted Matthew Kidd who was joined by his son who is SHS student, Holden Kidd. Mr. Kidd discussed what training you need to be a firefighter or an EMT. He discussed the positives and negatives of both jobs and brought equipment for some great demonstrations. The next Science Cafe will be held after Spring Break.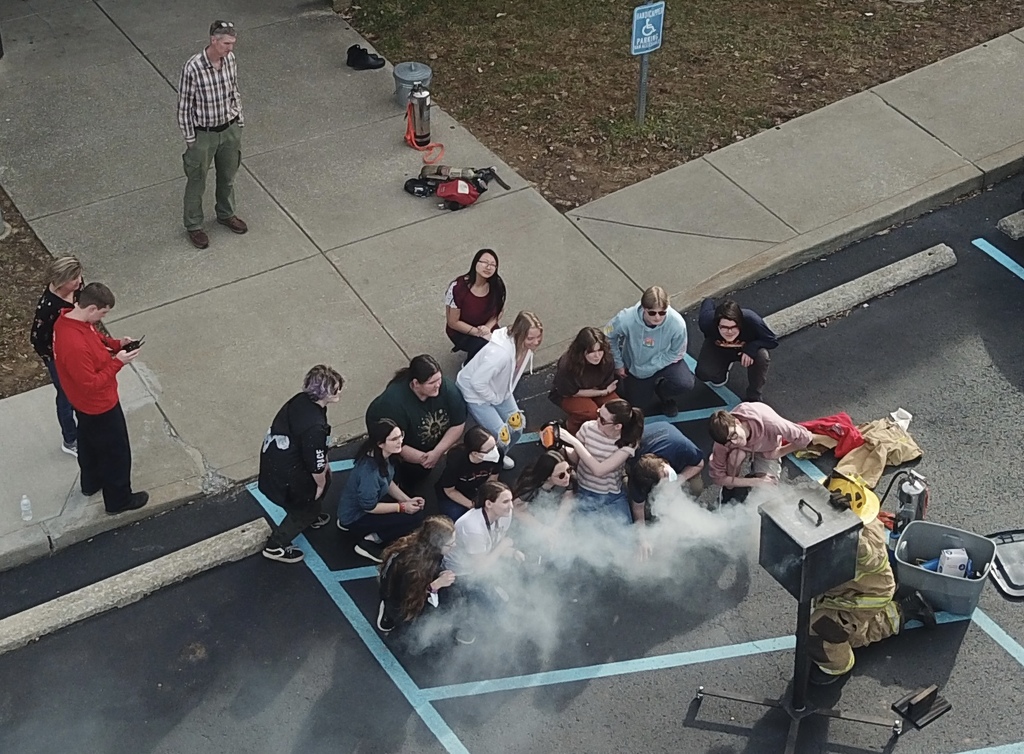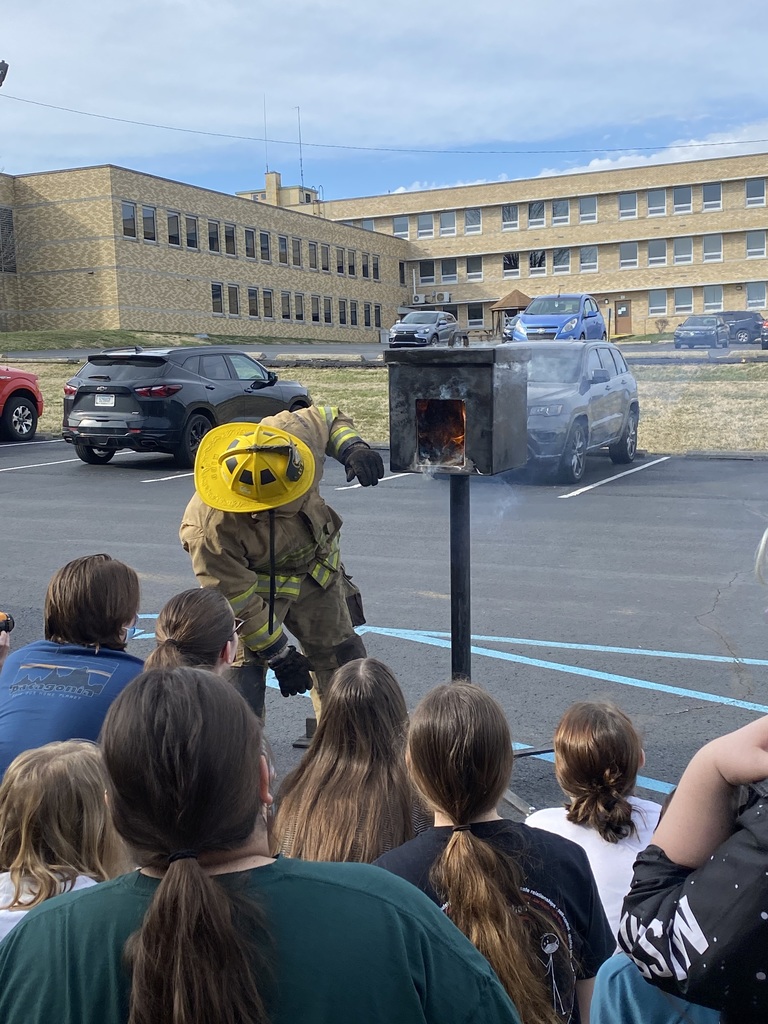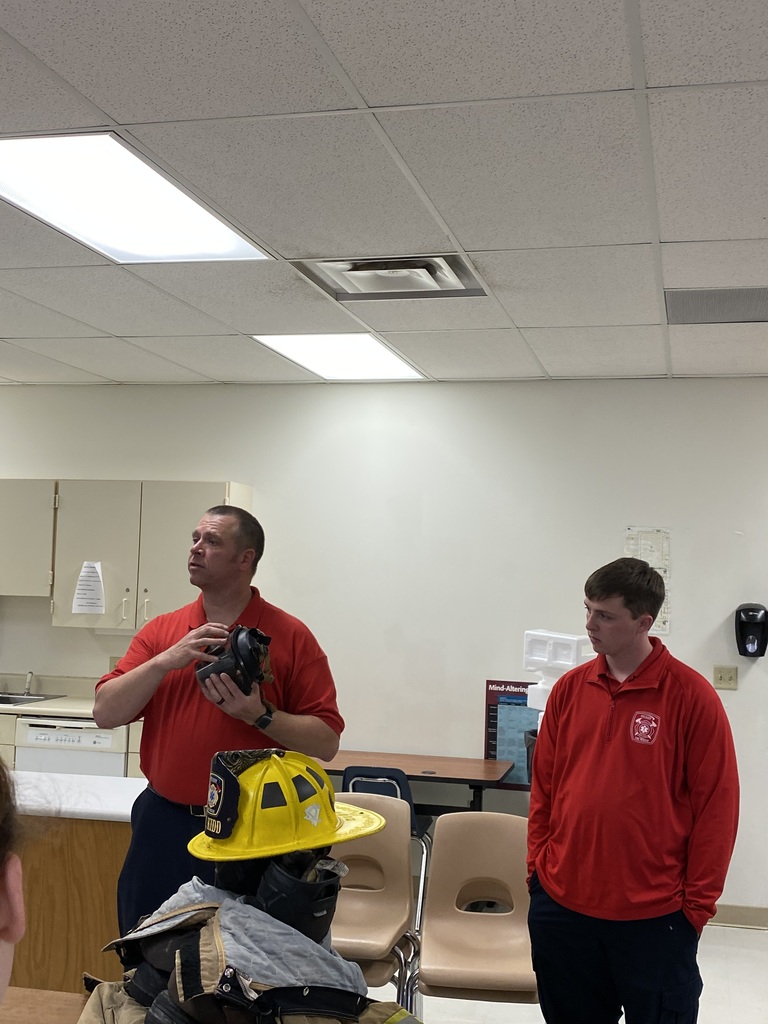 Just a reminder that today is an early release day. If you need to make transportation arrangements for your student, please contact the building in which he/she is located.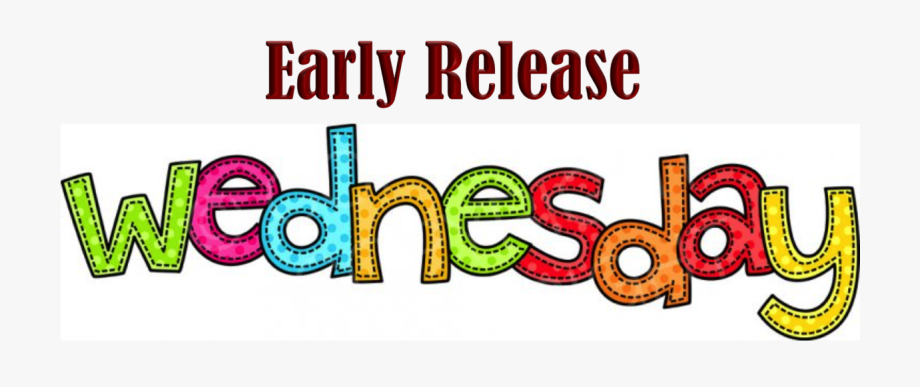 SCS is in need of bus monitors. We are looking to hire individuals who would like to serve as bus monitors. If you are interested in this position and/or to get more details, please contact Dee Dee Zink at 812-883-4437.

Good afternoon! I apologize for the message that went out yesterday about the time change. It was incorrect when it said you would arrive an hour early if you didn't change your time. In reality, if you have not changed your clocks, you would arrive an hour later. So, once again, we remind you to change your clocks for daylight savings time if you haven't. Enjoy the rest of your weekend.

Good afternoon Salem families! Just a reminder that time will spring forward Sunday, March 13th. We just wanted to make sure everyone remembered to set your time ahead 1 hour on Sunday or otherwise you will be at school an hour early on Monday, March 14th.