Brent Minton, Director of Student Services & Programs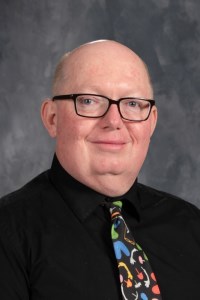 Mr. Brent Minton knew from a young age that he was interested in education. The 1990 graduate of Salem High School said in third grade, he could write stories and then read them to his class. He knew then that he wanted to be a teacher one day.
I had really good teachers that were important," he said. "I would have to start with Mary Alice Morris—she was fantastic. Betty Flannery was good, too. In third grade I had Marietta Gruesbeck. Char Handzel was my fifth-grade reading teacher and she pushed us to become better. In middle school, I had so many, but definitely Donna Lafollette, Anne Terrell, and Ginger Morris. Those teachers laid the foundations for what I would do and become later in life."
After high school, Minton attended Hanover College, where he studied secondary education. When he graduated from there in 1994, he was hired as a health and geography teacher at Salem Middle School.
Minton said the most enjoyable thing in education is helping kids. "They are the number one most important thing we have as educators and as people," he said.
His desire to go onto administration was due to the great administrators he worked with as a teacher at SMS. "Mr. Oppel and Mrs. Terrell both encouraged me," said Minton. "I always wanted to be able to help our students and by being an administrator, I had the chance to help more people at once. I was assistant principal at SMS for six years and principal at Bradie Shrum Elementary School for six years."
In October 2019, Minton was moved to his current role: Director of Student Services & Programs. His office is located in the corporation's administration building.
"My new role has been great," he said. "I have learned so much in a short period of time. I continue to learn every day."
Minton lives in Salem with his wife, Heather, who is an English teacher at Crawford County Community Schools. He also has a step-daughter, Katherine, and twins Aiden and Lydia.